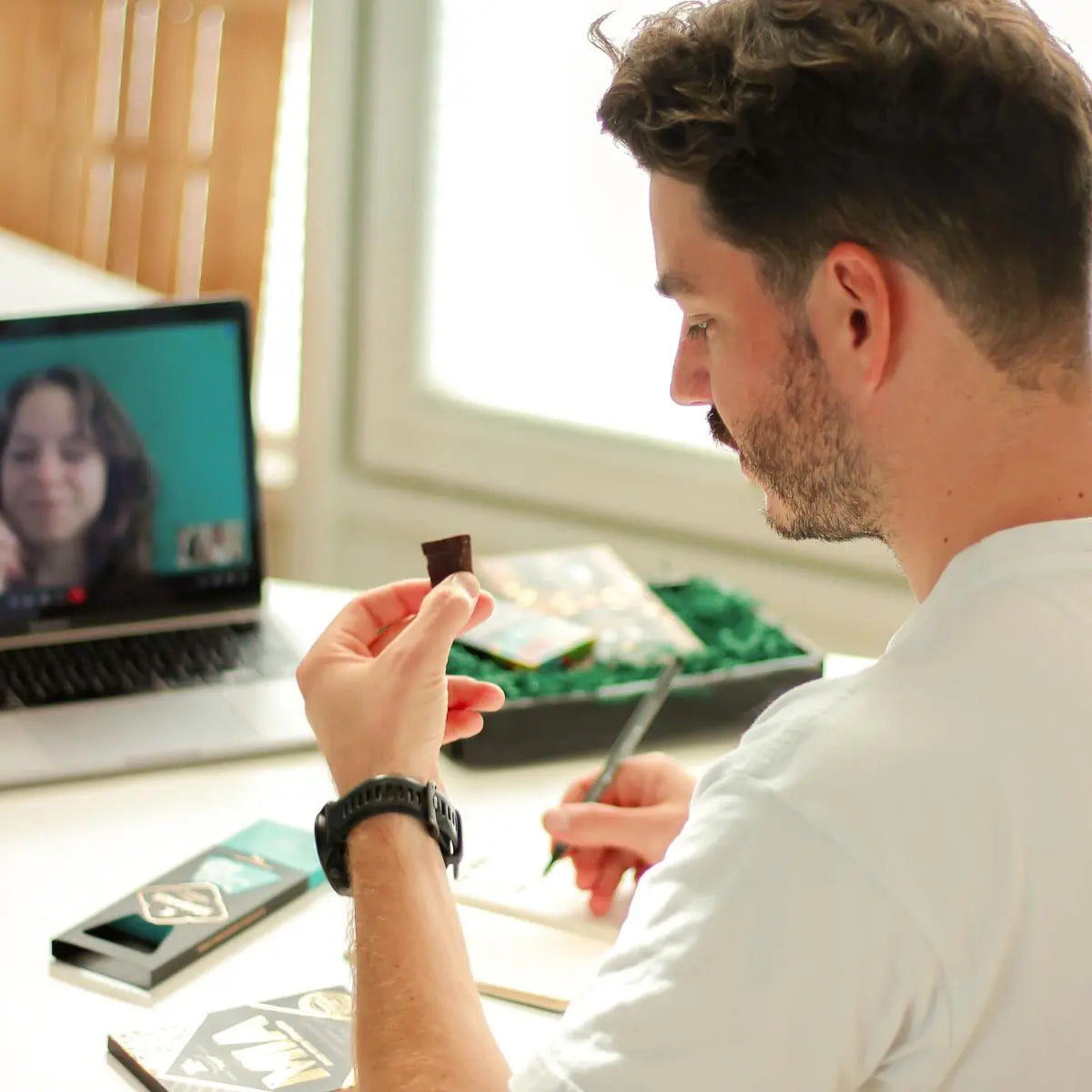 Make your online team events more chocolatey!
Our chocolatey ideas for
Your digital team event
Ideas for your online team events in 2023
A motivating team event is always a good idea! In addition, Christmas is again this year – at least it feels like – just around the corner. After a hectic and eventful year, it's time for a festive conclusion! Team events - also as digital company events - offer a great opportunity to celebrate the end of the year with your closest colleagues in a relaxed, away from everyday life. And for your company, it's the perfect moment to say a big "thank you" to the teams!
Request a digital team event
Our chocolate tasting formats
Our chocolate tastings are as different as your team needs! And that's exactly why we have various tasting formats on offer for you: from the 70% around the world tasting, to our tasting with a focus on the Ecuadorian origin , to various pairing tastings . We would be happy to advise you on which format suits you best and what customization options you have.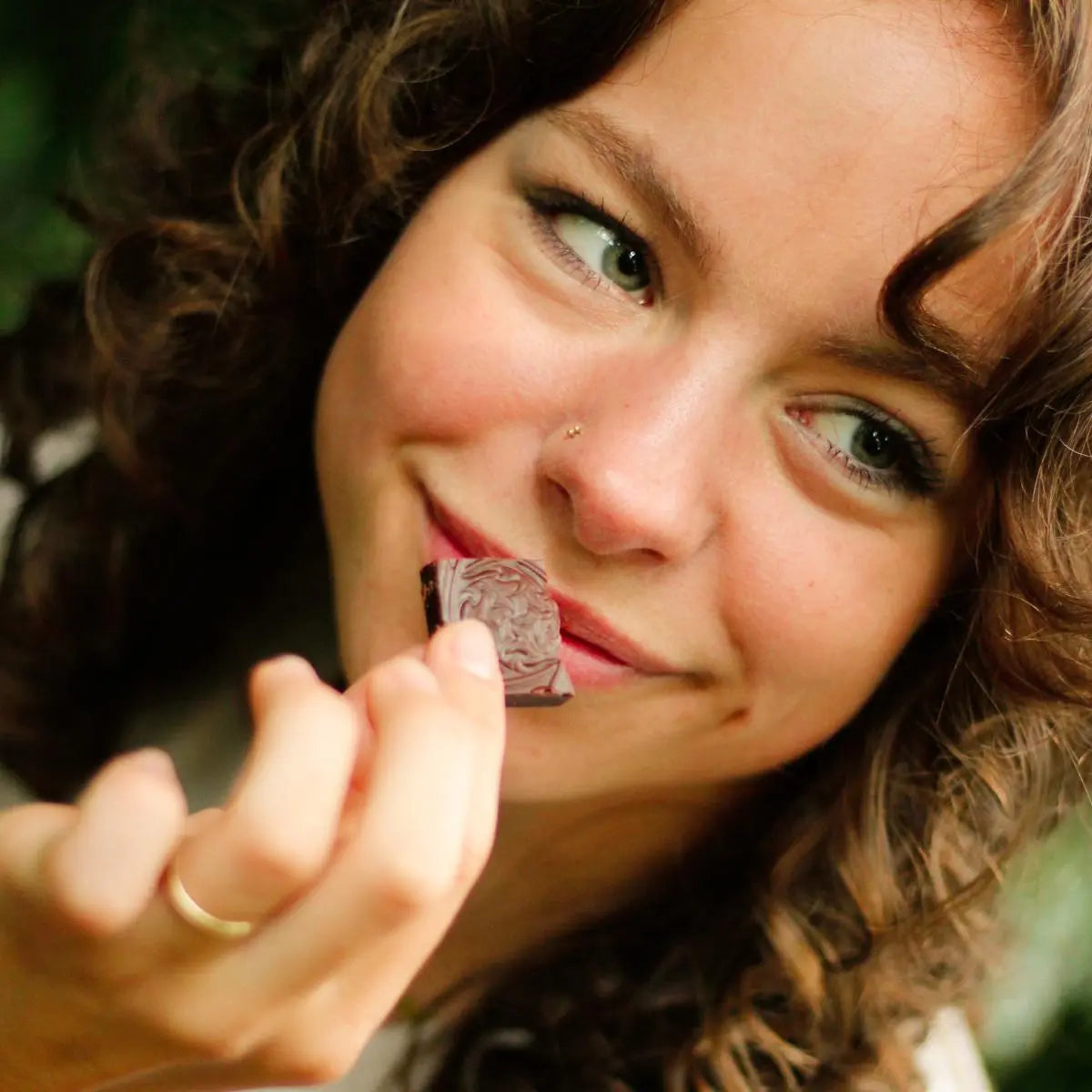 Your online team events for small groups and large groups
After two years of working from home, many people no longer have much interest in remote events. And yet the format still offers many advantages:

• It is more inclusive than purely on-site events & offers more people the opportunity to participate;
• It is uncomplicated, content can be adapted spontaneously;
• It is infection-proof, which is particularly important before Christmas;
• It is flexible and easy on the budget.
Contact Theyo
Feedback from our chocolate fans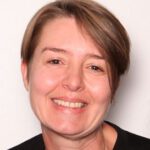 Isabella Michel, Administration Specialist, SAP
"The tastiest team event we've had at SAP so far. The time passed far too quickly. Truly an exciting and delicious journey around the world!"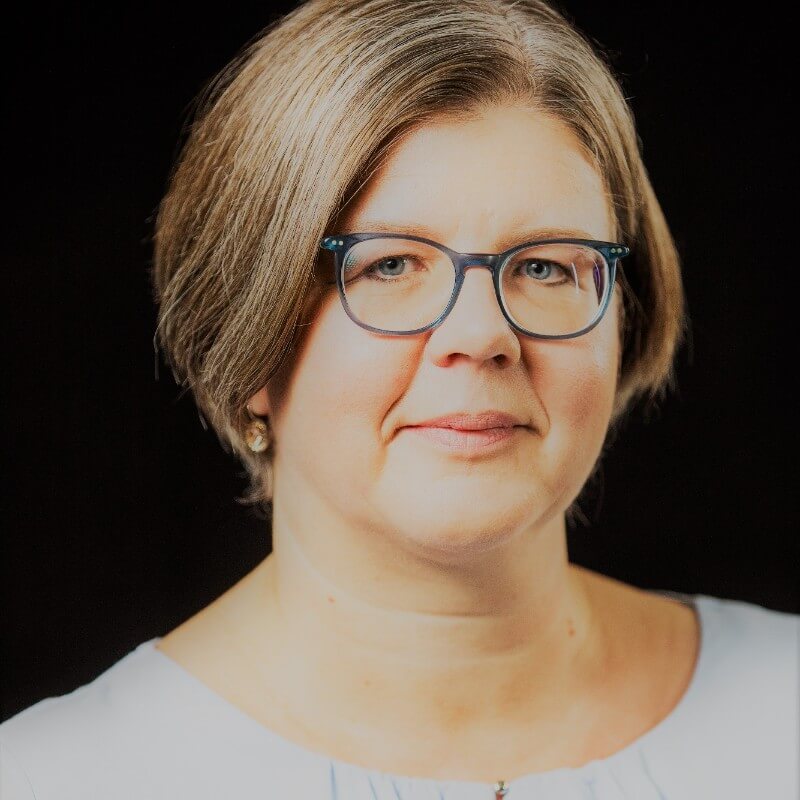 Sabine Schäfer, Marketing Manager, BearingPoint
"Our event showed that networking is also possible digitally! The chocolate tasting was a complete success and the participants were thrilled. Thanks to Theyo for the great organization and implementation!"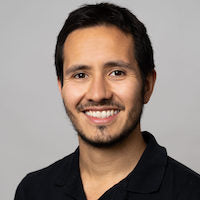 Juan Martinez, Key Account Manager, Babbel
"Great team event! Delicious, educational and completely new taste experiences! Who would have thought that chocolate could taste just like grapefruit? It couldn't be better!"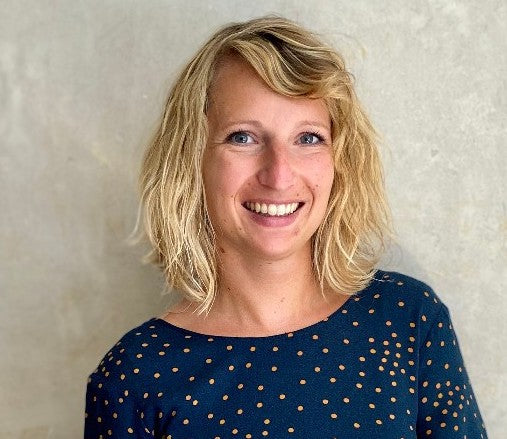 Sylvie Fleischmann, Senior HR Manager, Agrilution
"Chocolate pleasure with all senses and lively shop talk with colleagues - always accompanied by the know-how of the chocolate specialists at Theyo. Our team event was definitely more than a special taste experience."
Paul End, Senior Consultant Strategy & Innovation, different
"The Theyo team accompanied me perfectly from the chocolate expert call to the shipping and the great chocolate tasting and thus made a decisive contribution to the success of our self-guided tasting. An absolute recommendation!"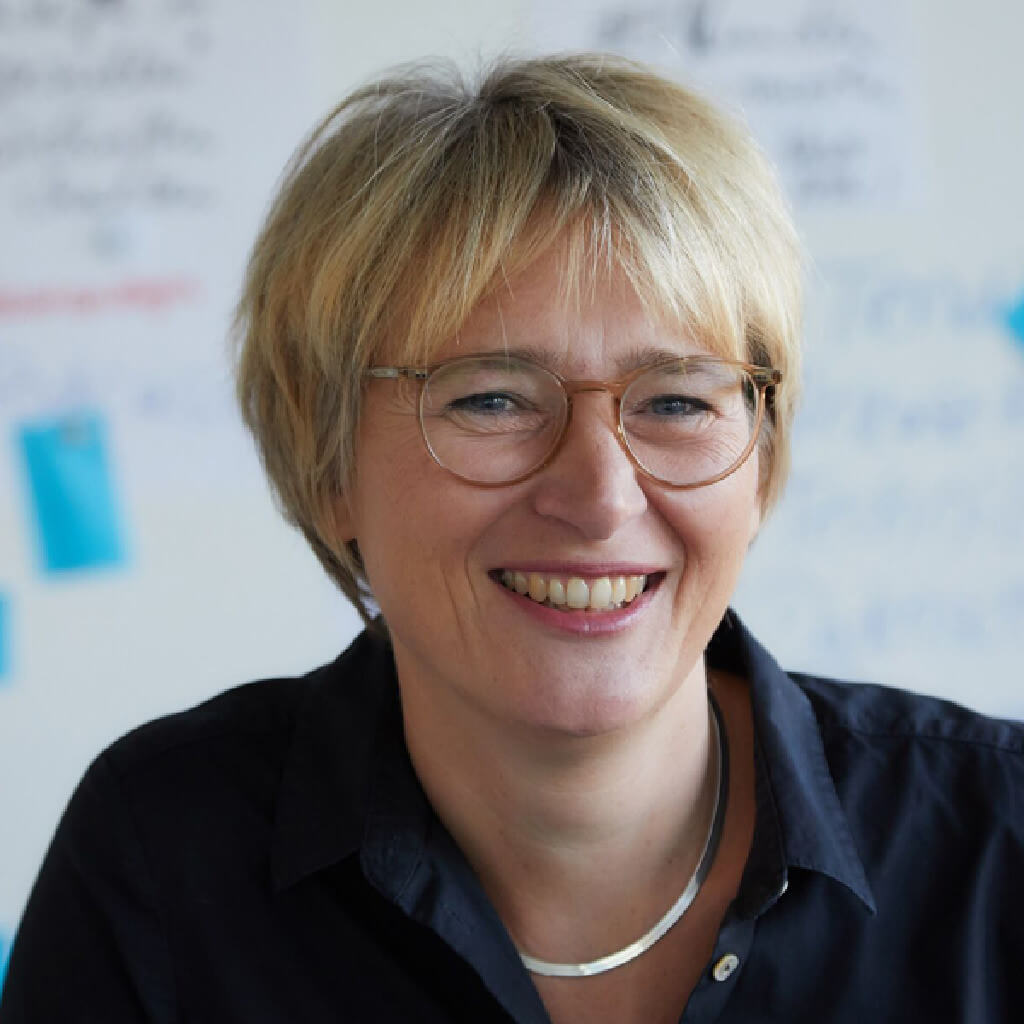 Nicole Paschke, Head of Cloud Solutions, perbit
"Communication and visualization are the big challenges for moderating remote meetings. If the meeting is not only intended to meet professional expectations but also serve as team building, a chocolate tasting is a wonderful finale!"
How do our online team events work?
Basically: Depending on the individual agreement, individual adjustments can be made for you and your team building event.

To give you a rough idea, we'll give you an example of how a remote online team event works:

In our digital events lasting approximately 60 to 90 minutes, we will turn you and your team into true chocolate experts! We will give you a comprehensive introduction to the world of fine chocolate, provide you with background knowledge as well as tips and tricks on how to enjoy chocolate properly.
The team event is anything but a frontal presentation: surveys, quizzes and Q&A sessions make the tasting an interactive chocolate experience.
As part of the German- or English-language digital team event, you will find out:
How chocolate is made and what role sustainability plays in this;
What differentiates fine chocolate from supermarket chocolate;
What you should pay attention to when tasting chocolate;
What other luxury foods can be combined with chocolate;
Which techniques can you use to taste aromas particularly well?
Armed with the new knowledge, we taste the chocolates together, look behind the scenes of the individual manufacturers and discover and discuss the exciting flavors and new impressions.
In short: We'll take you on a very special, chocolaty taste excursion!
Sweet like Chocolate
These customers have already surprised their teams with fine chocolates! In addition to major partners such as SAP, Google, Telekom, Vodafone, O2, Boehringer Ingelheim, Deutsche Bank, Volkswagen, Boston Consulting Group, Deutsche Bahn, E.ON, Siemens, DKB, Roche, many SMEs, agencies and startups have our chocolate ones Services used! ♥️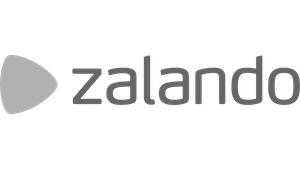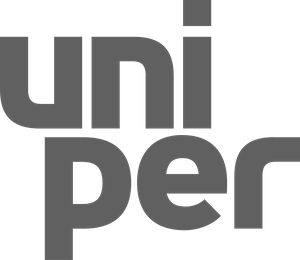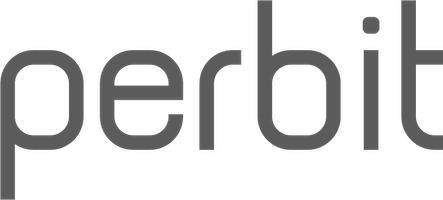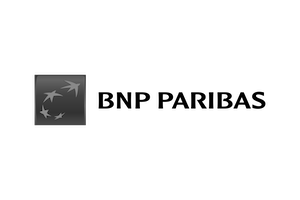 past tastings
With Theyo we have already made over 1500 companies more chocolaty! Read how we helped them design gifts here. 🎁
Online team events that connect you!
Even after two years , digital team building events can still be exciting. It's important to be creative and of course chocolate can also have a positive influence. 😉
Your digital group event is a great opportunity to get together with the team and celebrate the end of the year away from the stress of everyday life. No matter whether virtual, hybrid or on-site: a little Christmas decoration - on employees, but also in the digital space - immediately creates a cozy atmosphere. Ask your employees to dress in a festive, Christmas or funny way (keyword: Ugly Sweater Contest), choose appropriate decorations and music. Of course, a creative event invitation and chocolate care package in advance also makes a difference!
Whether as an icebreaker or as a crowning conclusion - a tasting event gives your virtual team event that certain something. It connects the remote teams and employees in the home office in an exciting shared taste experience. Whether for small groups or large groups of over 400 participants, we have the right package for every group size.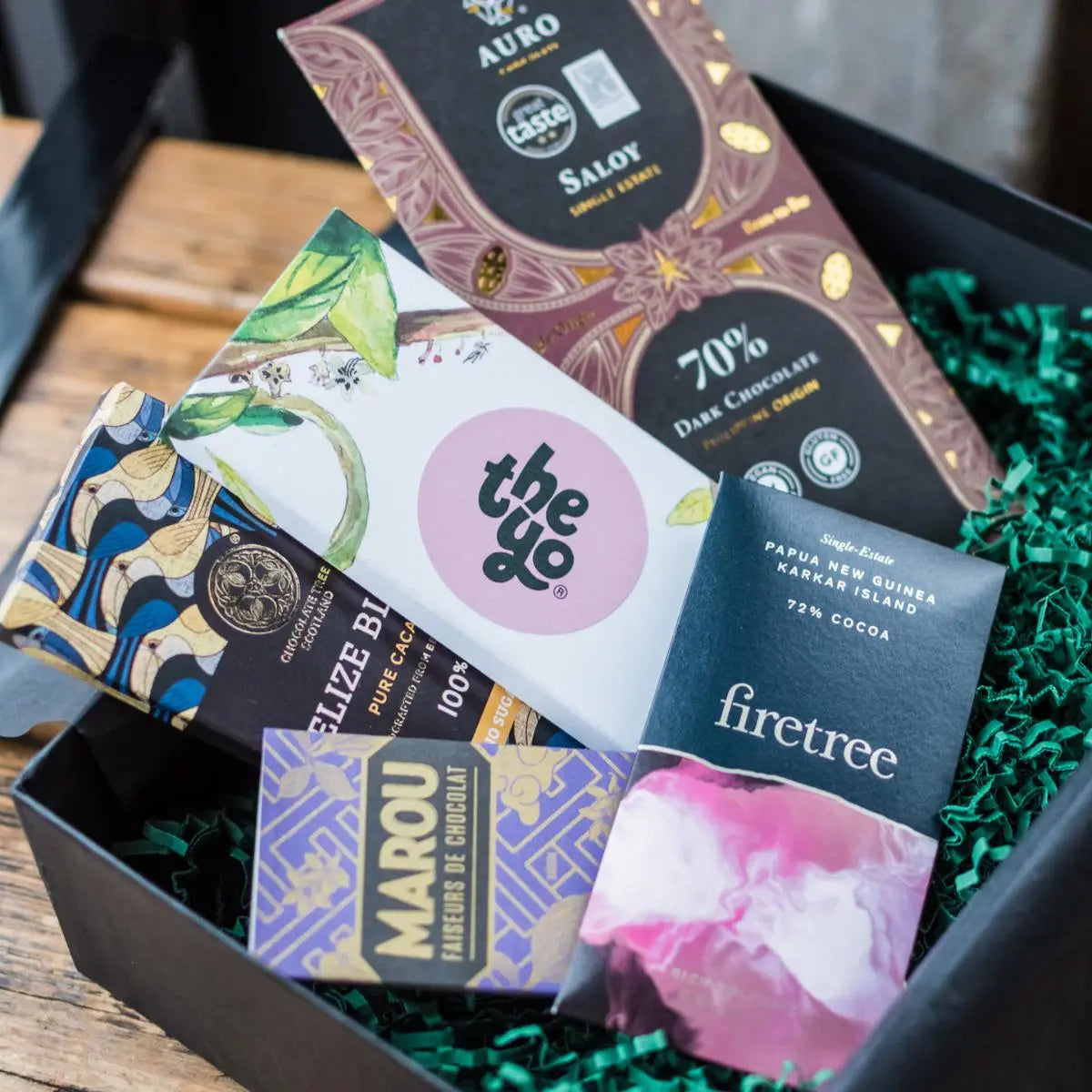 Sustainably delicious: chocolate tastings
The inside counts...
Pretty gift boxes with handpicked chocolate products
High-quality and sustainable filling material
Digital and varied greeting card options
Personalization with logo possible
Exclusive and sustainably produced chocolate specialties
request event
Team event gift box with logo & Co
On request with…
• Logo sticker as an element of the gift box
• Logo sticker or banderole as an additional element for our Theyo chocolate
• Digital greeting card with company logo
• Company greeting card possible as an insert
• Do you have a wish – just contact us directly with your individual ideas and wishes!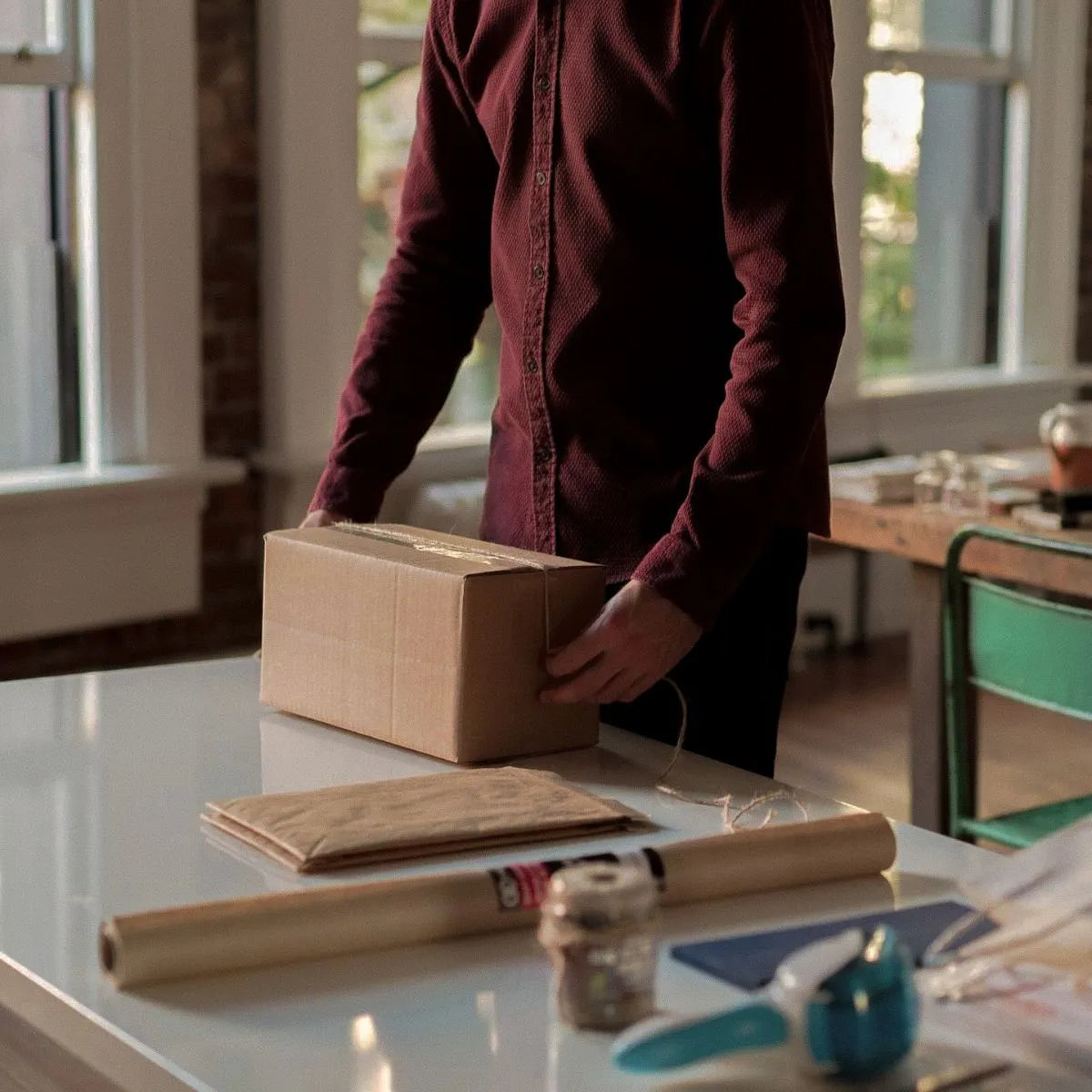 Customized shipping options
• Direct and individual mailing to gift recipients
• GDPR-compliant data usage
• Delivery to your company
• International shipping
• Dispatch on the desired date
• Complex shipping options
In 3 steps to a chocolaty group event
We are not a marketplace or intermediary - with us everything comes from a single source! Just get in touch with us & we will personally ensure an excellent implementation of your digital team event.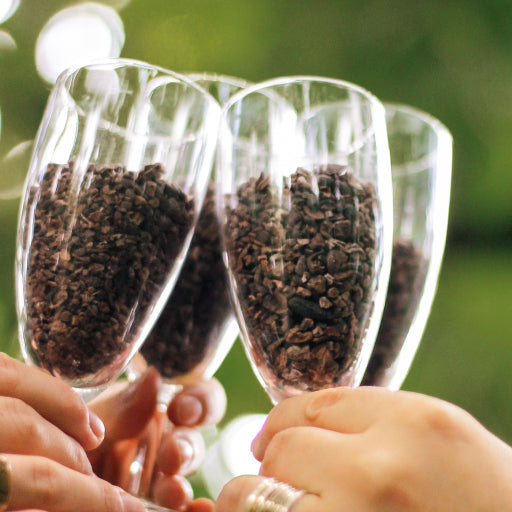 You report to Theyo
Get in touch with us with initial ideas and contact details.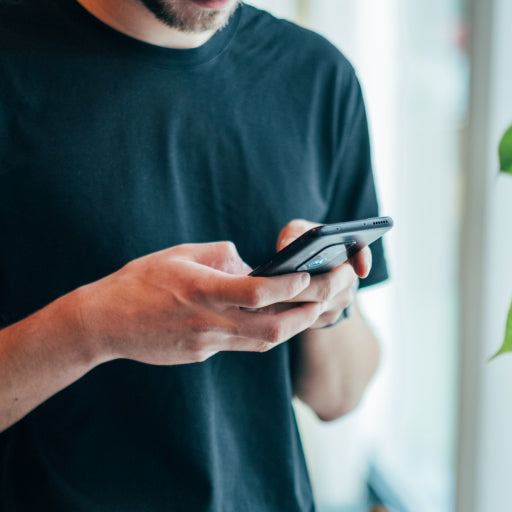 We will contact you
We'll get back to you promptly with creative gift ideas.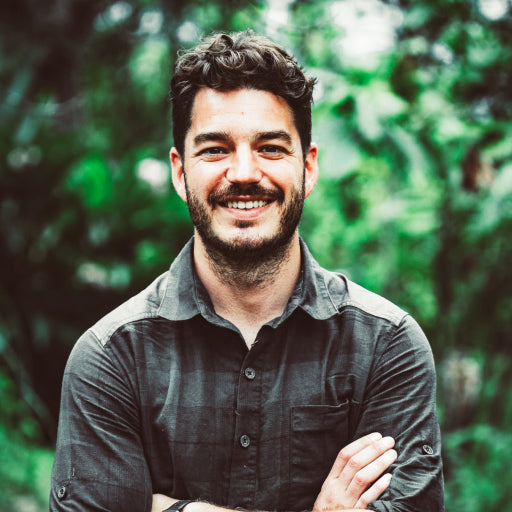 you lean back
You relax and we organize the rest.
contact now
We look forward to talking to you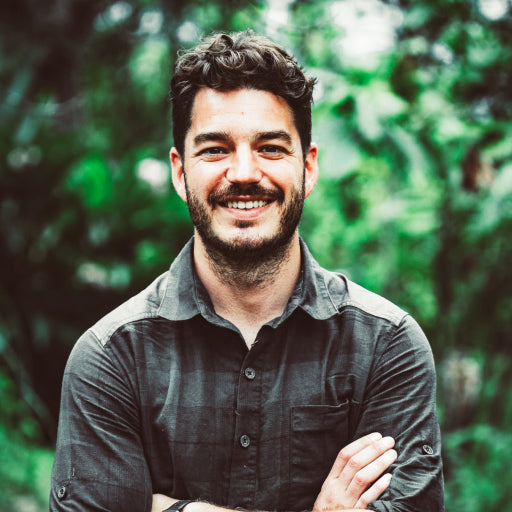 Moritz little Bornhorst
Chocolate Eating Officer
Phone: +49 176 8143 8759
Email: moritz@theyo.de
FAQ Virtual team events
Your most common questions about our digital team events - small groups, big celebrations 🎉
Where can a virtual team event take place?

Since virtual team events - as the name suggests - primarily take place digitally, they can take place internationally and worldwide, remotely via Google Hangouts, Zoom, Teams or via software of your choice. We are happy to adapt to your wishes and habits!
What technical requirements do you need for our online team events?

Online team events take place virtually. Accordingly, you should bring a stable internet connection and a working camera and microphone. The chocolate tasting should be interactive and generate as much exchange as possible. So it would be great if you took part with a good device and not just a smartphone or tablet. If your team already works remotely or in the home office, all technical requirements for an online team tasting should already be in place.
Which packages can teams choose from?

With our three packages 'Basic', 'Premium' and 'Deluxe' we fulfill your ideas of a successful virtual team event in the home office, remote or hybrid - for all budgets and target groups. If you have special wishes or requirements, just talk to us!
How many people must participate at least?

In principle, a digital team event - also as a Christmas party - is already possible for small groups. Depending on which package you choose, there is a different minimum number of participants for our digital group events. Talk to us and we will find a solution together.
And what is the maximum number of colleagues who can take part in an online team event?

In principle, there is no upper limit for our tastings. We have also held virtual chocolate events for 500 people and can adapt to any group size and event format. Nevertheless, you should always be aware of the objective of your event in advance. A certain event size is definitely conducive to interactivity. With more than 400 participants, however, it may be less interactive and dividing the group could make sense. Since we have already held over 1,500 digital tastings and team events, we would be happy to advise you!
How do you deal with data protection at team events that take place digitally?

The data protection regulations of your company and, of course, the GDPR apply to online team events.

In this regard, we are also happy to follow your regulations and, accordingly, the video software of your choice!
Is it possible to participate in the online event from anywhere?

From a technical point of view, participation in the virtual team event is possible from anywhere in the world. A stable internet connection and a suitable device are required. Depending on the format and ideas, it can also make sense for you to hold the event partly from your home office, partly remotely and partly in the office. This way you can keep the event inclusive and everyone can participate as he or she is able.
Is there actually a difference between 'Virtual Team Events', 'Online Team Events' or 'Remote Events'?

No. In fact, these different terms have emerged during the Corona period, but they all ultimately describe a digital company event or team event. In plain language, it simply means that you connect with each other digitally and promote your team spirit and your sense of community in a virtual way - for example through a chocolate tasting.
Does Theyo also offer online team events in English?

Yes, I'd love to. We can hold the chocolate tasting team events in both German and English.
Do you have someone at Theyo leading through the event?

The Theyo team takes you on an exciting taste excursion! This means that you can pester at least one certified chocolate expert with your questions at the extraordinary team event.
How far in advance does the appointment need to be set?

So that nothing stands in the way of your event and everything arrives on time, we need a lead time of at least 3 weeks. We are happy to try to make it possible in a shorter time, but then we cannot guarantee anything, since the post office currently has very long delivery times.
Can we freely choose the date and time?

In principle, a digital team event is possible on almost any day and at almost any time. Feel free to suggest to us your desired date and an alternative date and we will take care of the rest. Although the time can be chosen freely, we recommend from experience to choose a time slot in the morning or evening when your head is still a little freer.
Can participants be cancelled?

Unfortunately, participants can no longer be canceled after a binding booking. However, you can still book participants up to 10 days before your event. As a rule, the chocolate boxes arrive on time.
Are the team events only aimed at corporate customers?

No. Instead of an online team event, you can also book a digital birthday party, a virtual JGA or a similar event with us. Please just write us a message!
What payment options do you offer?

Whether classic bank transfer (payment term: 30 days), PayPal or payment by credit card. We offer all common payment methods. An advance payment is not necessary with us. We issue the invoice after the event.
Are the contents of the Theyo tasting box sufficient for more than one person?

Get in the pits and off to adventure! With the Theyo tasting box for a team event, your employees, customers and business partners can go on an exciting journey for all the senses with family or friends. Exciting aromas and surprising taste profiles take the recipient on a taste excursion to the other end of the world. Sharing is caring! That's why it's particularly fun to discover the box together with friends or family. Depending on the size and scope of the box, the box is sufficient for tasting for at least 2-4 people. However, one box is often enough for a tasting with up to 10 people. Depending on how much the recipient wants to share ;-). If you send a gift box digitally for a team event, it is also a good idea for the whole family - especially children - to be involved. The chocolate tasting is a wonderful experience, which is even more fun when shared!
Can the package also be sent directly to the recipient?

Individual shipping to your team members, (potential) customers or business partners is no problem at all! Simply contact us and we will see - depending on the number of packages - what the most appropriate type of address collection is.
What happens if the participants do not accept the packages when they are sent individually? E.g. because you are on vacation?

When shipping with DHL, the following applies: if your colleagues, employees or team members do not accept it on the first delivery attempt, the tasting box is usually handed over to a neighbour, a parcel shop or a shop nearby. The gift recipients are usually informed directly by DHL. If the participants do not receive or pick up their sample box within 7 days, the deliverers will assume that the shipment is not wanted and it will be sent back to us.

If you prefer a different delivery service for your team event or prefer express shipping, simply contact us.
Tasting boxes: On what basis is the value of the boxes for employees, colleagues and teams determined?

In principle, the value of the individual items counts for the chocolate boxes. However, if several items are combined (e.g. our chocolate shaker with a to-go cup and drinking chocolate), then of course the value of all items must be summarized as a whole.
In which case does the 50 euro limit count as net and in which case as gross?

The rule is clear here: For donations eligible for input tax deduction, the net amount of the 50 euro limit applies (new since 2022), otherwise it is generally gross.
When is there a personal reason for gifts and which exemption limits must be observed here?

This is also quite easy to define: there is always a personal reason if it only affects the employee or colleague who received the gift and not all employees. Conversely, Christmas is not a personal occasion and is therefore subject (since 2022) to 50 euros (per month, gross, including shipping). This applies, for example, to weddings, birthdays, the birth of a child or company anniversaries. Gifts must not exceed the 60 euro limit if they are to be tax-free. The same applies here as with the 35 euro limit: as soon as the 60 euro is exceeded, there is a benefit that is subject to income tax, unless you as the employer make use of the flat-rate taxation.
What are the benefits of online team building?

Motivation and cohesion are particularly important in times of crisis! If there is also the fact of a physical separation - due to Corona or because you work remotely or in your home office anyway - digital team building is of particular relevance for you. With a virtual team building event, you ensure that your teams also associate pleasant aspects with digital work and not just the completion of tasks. Shared experiences - also virtual - strengthen the sense of togetherness and promote team spirit!